The Messenger Bag
The leather Messenger bag for women on bikes
Made in France
The Messenger Bag
The leather Messenger bag for women on bikes
Made in France
Welcome to Lady Harberton's english Website !
Hello there & Welcome !
We are currently changing the english version of our website. Meanwhile, if you want to discover our designs and place an order, you can order directly on the French Version of the Website.
All of our designs are made in Lille in France by us with beautiful materials, such as vegetable tanned leather & merino wool. We think our collection of goods for the urban travellers so they can leave plainly their daily life with practical & versatile objects.
If you get any trouble with french explanations, Please feel free to contact us here
Cheers,
Lucile
Designer, leather Craftswoman & Founder of Lady Harberton
A hand-bag imagined to make your commute easier…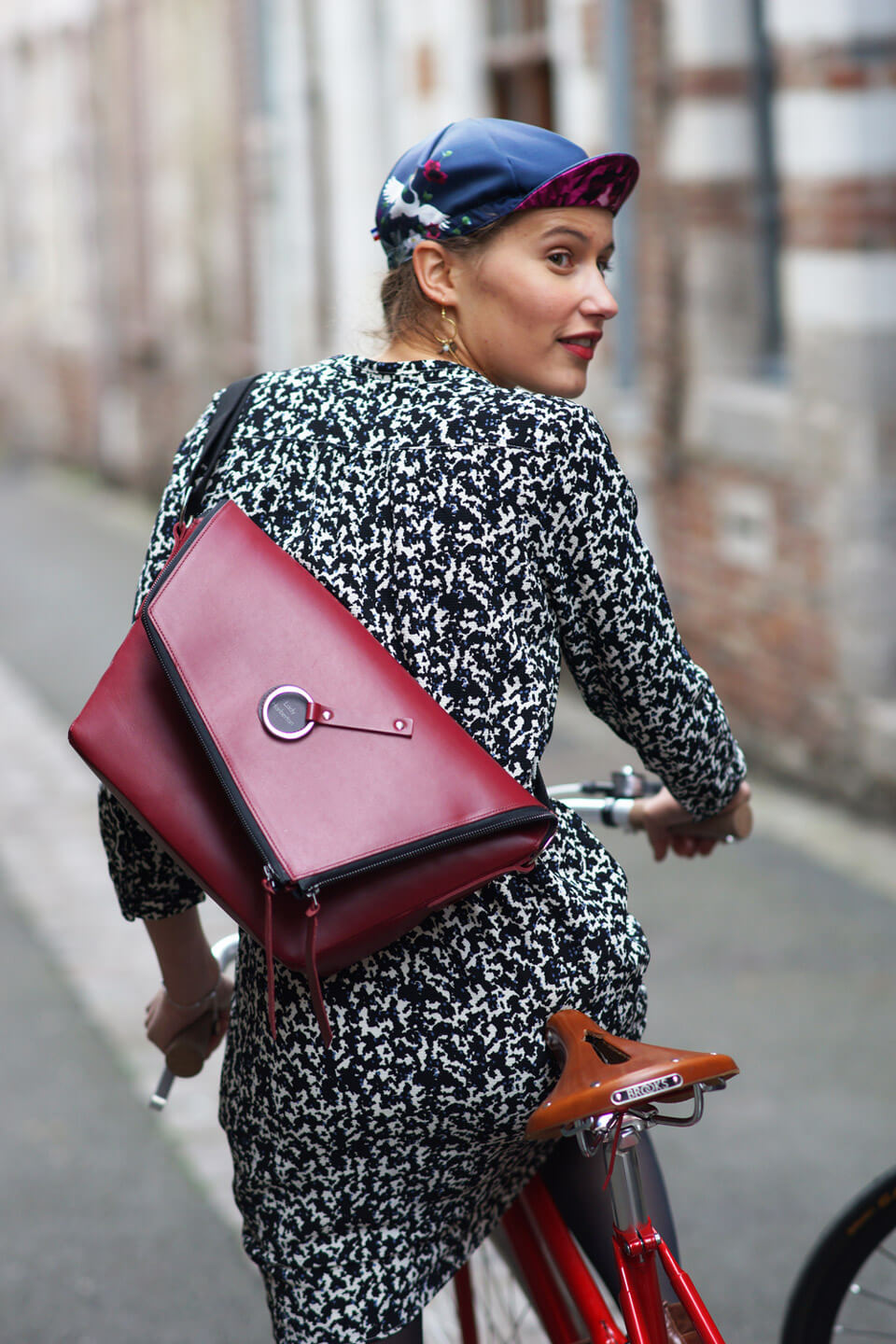 Lady Harberton's Messenger bag is a new, elegant et beautiful design of the messenger bag that you carry on your back and on or over your shoulder.
When you commute by bike, foot or with your scooter, you carry your bag in the back like a bike messenger. The bag remains stable thanks to the second strap so you keep your hands free. When you stroll in the streets, you carry the bag as a traditional lady handbag.
Chic & functional
Lady Harberton's messenger bag is useful as a bike messenger bag and a beautiful handcrafted lady leather bag with elegant and refine design.
I created the messenger bag because as active and modern women, we deserve solutions that are both making our everyday life easier and making us elegant and stylish. Before when I was getting on my bike, I didn't want to choose between my charmless but practical backpack and my elegant but complicated handbag. Inspired by the New York bike messengers, I've made around ten prototypes before finding the right design : The Messenger Bag.
Lucile – Designer of Lady Harberton's Messenger Bag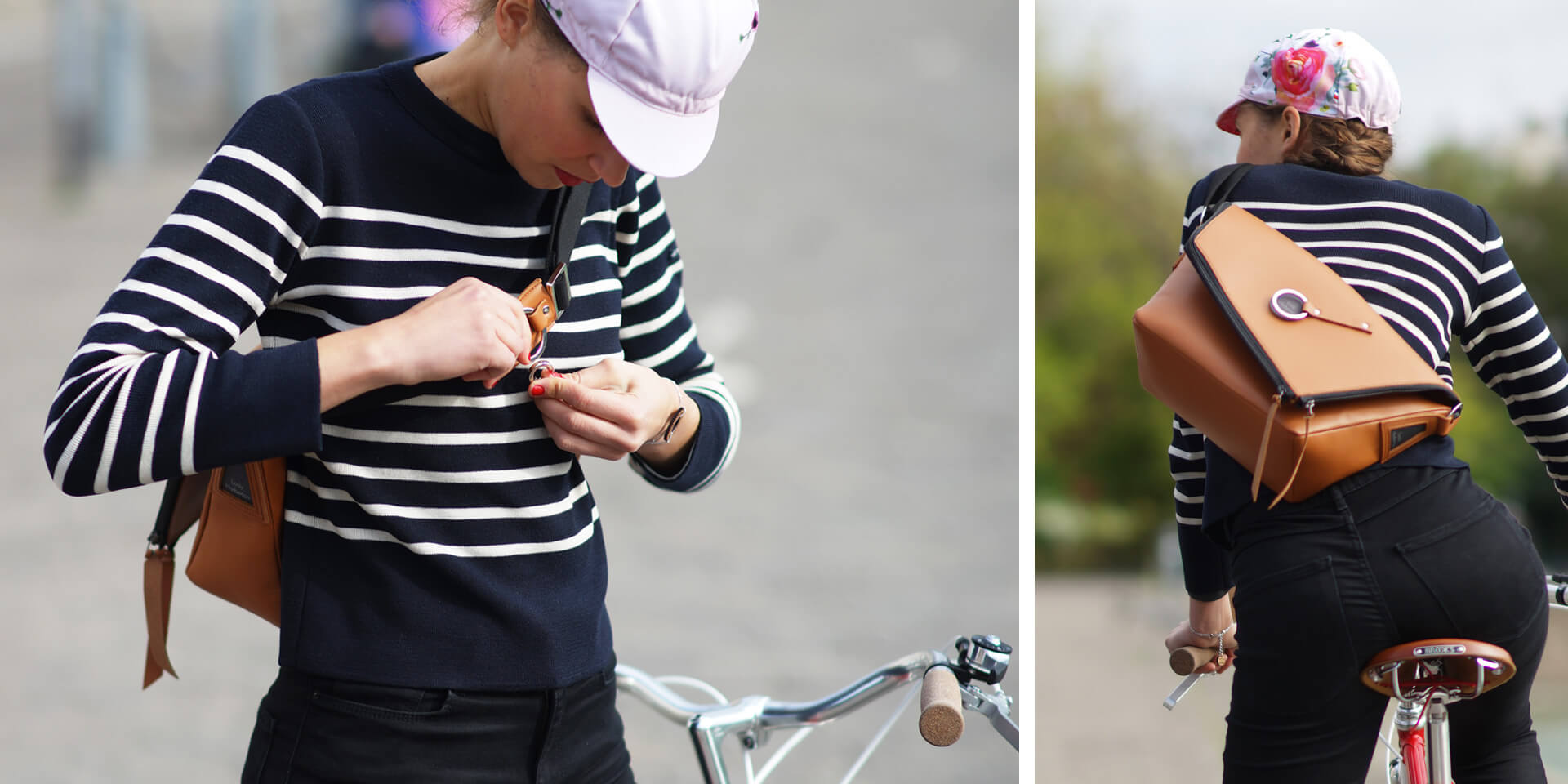 No more handbags falling from the shoulder !
The Messenger Bag transforms in the blink of an eye !
The messenger bag is equipped with a second strap with a hook and a ring on the main strap so you can place your bag on your back and keep it stable when cycling.
Look at the video demonstration.
On foot, the second strap is used to close the bag and secure your belongings.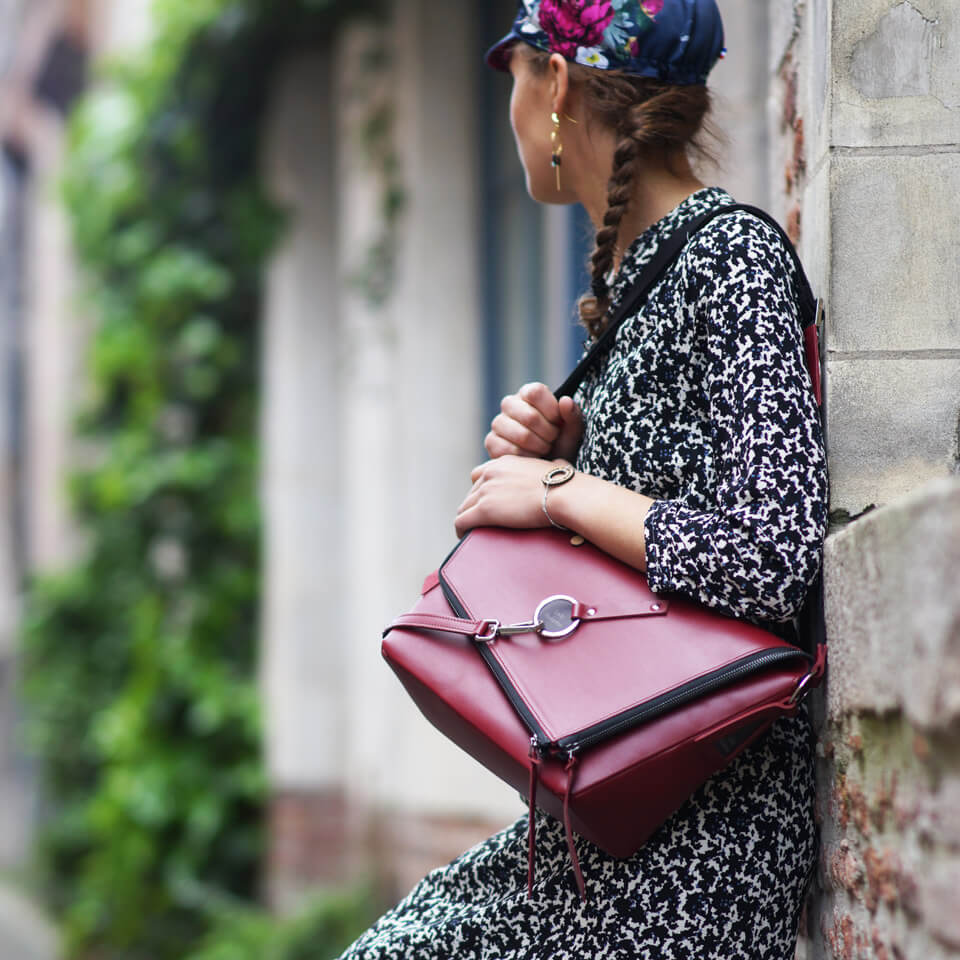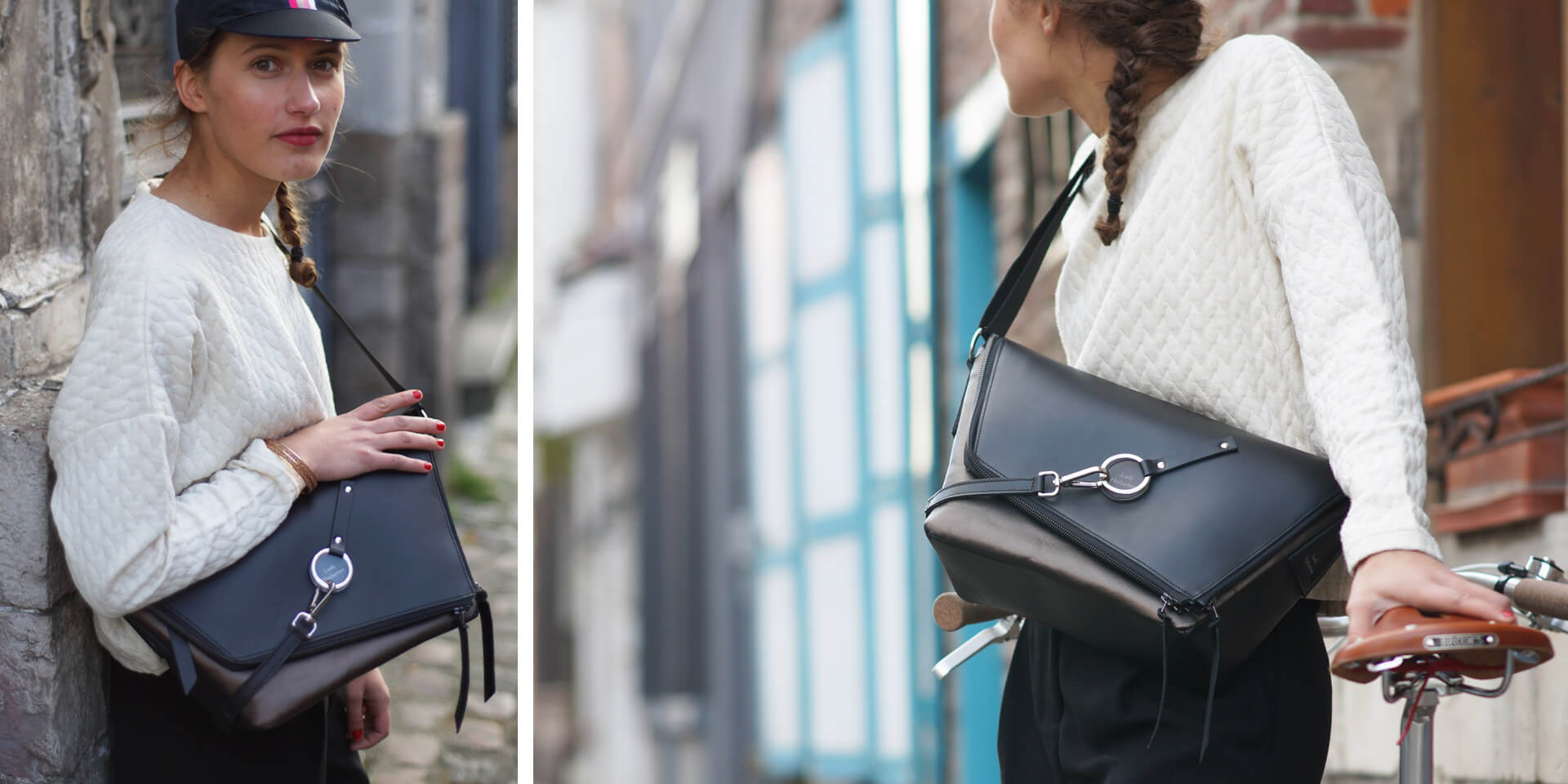 Carry even your laptop with you !
Because there are days when you'd like to carry even your house with you, the Messenger Bag has a Cargo mode, It can get bigger, so you can carry your laptop or a rainy cape. Mary Poppins would be jalous !
Use your bag in a normal position and carry your phone, wallet, keys, a small book, a tablet or a small bottle of water with a rainy cape.
Use your bag with cargo position, unfolded, and add you A4 file or your 15″ laptop.
You can use the zipped pocket in front and access easily to your phone, keys or metro pass in two seconds.

Your Messenger Bag is repellent to keep dried your belongings.
The leather of the Messenger Bag is repellent. It means that under a small rain, the water will slide along the bag without coming in. You will be able to continu your urban journey without being worried about the rain !
Reflective, You are visible even at night !
The brand labels are situated on the face and side of the bag. They are reflective so you can be visible by the cars at night. You won't keep unnoticed !
Made in France.
Because we want to keep the french leather knowledge and we choose the quality for our products, we chose to work with a french manufacture.
Expertise and quality : A Living Heritage
The leather Messenger Bag is manufactured in West of France by our production partner, labelled a Living Heritage Company, guaranteeing quality and expertise.

Durable and resistant, your messenger bag is made with full-grain leather.
Le Messenger has been created using highly refined material, making it a thing of timeless beauty. The outer shell is made of full grain calfskin, guaranteeing both weight resistance and longevity.